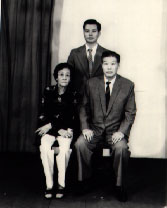 Yeung Sau Chung, also known as Yang Zhenming by his brothers and relatives. The oldest son of Yeung Ching Po. Sau Chung began Tai Chi Chuan training with his father as the age of 8 and became his father's assistent by the age of 14. When he was 19 year old, many organizations employed him as a Tai Chi Chuan tutor and instructor. He accomplished his father taught the family art of Tai Chi Chuan throughout China such as Beijing, Shanghai, Guanzhou, Wuhan, Hangzhou etc.

To better propagate the family art of Tai Chi Chuan, in October 1948, he published his father's book "The Complete Work of Tai Chi Chuan" which first published in Shanghai in 1934. After he and the family moved to Hong Kong in 1949, he published his own book "Tai Chi Chuan: Its Applications and Variations", the Chinese edition in 1962 and the english edition in 1977.

He had three daughters, Tai Yee, Ma Lee and Yee Li, all continue his foot step in Hong Kong. Over the years, he had taught many people but he accepted only three people as his disciples, Mr.Ip Tai Tak resides in Hong Kong, Mr. Chu Gin Soon resides in The United States and Mr. Chu King Hong resides in The United Kingdom. All continue their teacher's foot step.

For more information on Yeung Sau Chung's teachings, please read The Teachings of Yeung Sau Chung.